Pivotal Tracker
Setup
To connect Pivotal Tracker with Taco, from the Connectors page, click "Pivotal Tracker." Taco will present a settings page like the one below. Obtain an API key from your Pivotal Tracker Profile page (accessible via the drop-down menu under your name in the top right corner).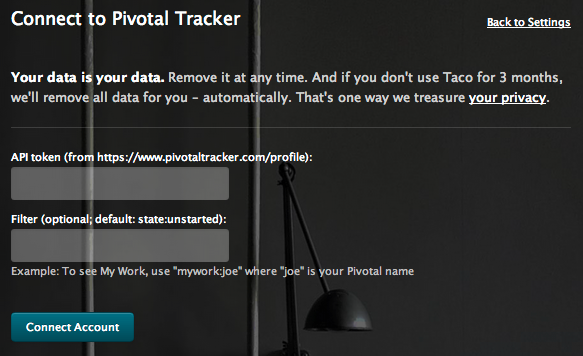 Behavior
Taco can use any Pivotal Tracker search filter.
By default, Taco imports all stories which match this filter (from across all projects):
state:started,unstarted type:feature,bug,chore

This filter is appropriate for many Pivotal Tracker environments. Depending on your workflow, this filter may be better:
where joe is your Pivotal Tracker username. Tracker search queries can match nearly any set of tasks. See Pivotal Tracker Help.
Keyboard shortcut
While using Taco, press the keyboard shortcut g pi (as in "go to Pivotal Tracker") to open Pivotal Tracker in a new browser tab.